Learning Al-Qur'an Using Asy-Syifaa Method at Islamic Pre-Elementary School
Abstract
Islamic Pre-Elementary school or Taman Pendidikan Al-Qur'an (TPQ) was a non-formal education in the field of the Islamic religion to create a generation that was Al-Qur'an and has good morals. At TPQ, various methods of learning the Qur'an were used to assist the learning of the Al-Qur'an to teach effectively. The article aimed to describe how the Asy-Syifaa method was implemented in the Al-Qur'an learning process at TPQ MNU Miftahul Ulum. In the implementation of it's learning, several activities start from opening, core, and closing. This research included  qualitative research by using the collecting data of observation and interviews. This research is conducted at TPQ MNU Miftahul Ulum, Kalijambe Village Tarub District, Tegal Regency. The result indicates that the application of the Asy-Syifaa method in learning at TPQ is considered much more effective, which consists of 4 volumes in the Al-Qur'an learning process. The learning stages are opening in class, individual, classical, and closing. Three kinds of evaluation are applied: daily evaluation, volume increase evaluation, and final evaluation of learning the Qur'an.
Keywords: Asy-Syifa Method, Al-Qur'an Learning Process, Asy-Syifaa Learning Method
References
Aisah Munawaroh, 1323308047. (2017). Studi Komparasi Hasil Belajar Antara Penggunaan Metode Qiraati TPQ Al Falah Dan Metode As-Syifa Tpq Miftakhul Ulum di Dukuhbenda Kecamatan Bumijawa Kabupaten Tegal [Skripsi, IAIN Purwokerto]. Google Scholar
Alam, Md. K. (2020). A systematic qualitative case study: Questions, data collection, NVivo analysis and saturation. Qualitative Research in Organizations and Management: An International Journal, 16(1), 1–31. https://doi.org/10.1108/QROM-09-2019-1825
Agustianti, R., Nussifera, L., Angelianawati, L., Meliana, I., Sidik, E. A., Nurlaila, Q., ... & Hardika, I. R. (2022). Metode Penelitian Kuantitatif Dan Kualitatif. TOHAR MEDIA. Google Scholar
Bulan, D. V. C., Salsabela, E., Azzahrah, H., Husniawati, H., & Robiansyah, F. (2023). Literature Study: The Use of The Qiroati Method for Early Children. JIEEC (Journal of Islamic Education for Early Childhood), 5(1), Article 1. https://doi.org/10.30587/jieec.v5i1.4993
Cahaya, N. (2022). Akibat Penggunaan Metode Baghdadiyah terhadap Kemampuan Membaca Al Quran Siswa Di MTS Al Washliyah 05 Kecamatan Medan Belawan Kota Medan. Jurnal Ilmiah Mahasiswa Pendidikan Agama Islam [JIMPAI], 2(5), 236–336.Google Scholar
Caswita. (2021). Manajemen Evaluasi Pembelajaran Pendidikan Agama Islam. Deepublish.Google Scholar
Chairilsyah, D. (2020). The Teaching Of Reading The Qur'an In Early Childhood. Raudhatul Athfal: Jurnal Pendidikan Islam Anak Usia Dini, 4(2), Article 2. https://doi.org/10.19109/ra.v4i2.6800
Efendi, E., Nurdin, K., & Baderiah, B. (2020). Humanist Education: Its Implementation on Scavengers Children's at TPA Mancani Palopo City. International Journal of Asian Education, 1(3), 155-168. https://doi.org/10.46966/ijae.v1i3.68
Febriani, B. L., Sulistiya, F., Murtopo, B. A., & Fatimah, S. (2021). Analisis Penerapan Metode Qiroati dalam Meningkatkan Kemampuan Membaca Al-Qur'an Siswa Madrasah Ibtidaiyah. Seminar Nasional PGMI.Google Scholar
Gunawan, F., Nababan, M. R., Syukri, H., & Burdah, I. (2022). Revisiting Interpretive Translation Method: A Case Study of Muhammad Thalib's Quranic Translation*. Jordan Journal of Modern Languages and Literatures, 14(1), 111–127. Google Scholar
Hancock, D. R., Algozzine, B., & Lim, J. H. (2021). Doing Case Study Research: A Practical Guide for Beginning Researchers. Teachers College Press.Google Scholar
Hasanah, M. (2021). The Role of Parents in Children Memorizing the Qur'an in Middle School Based on the Amanatul Ummah Islamic Boarding School. Tafkir: Interdisciplinary Journal of Islamic Education, 2(2), 139–156. https://doi.org/10.31538/tijie.v2i2.43
Howitt, D. (2019). Introduction to qualitative research methods in psychology. Pearson UK.Google Scholar
Herlina, S., Arinal Rahman, M., Nufus, Z., Handrianto, C., & Masoh, K. (2021). The Development of Students' Learning Autonomy Using Tilawati Method at a Madrasatul Quran in South Kalimantan. Jurnal Pendidikan Agama Islam, 18, 431–450. https://doi.org/10.14421/jpai.2021.182-12
Ikhwan, A. (2016). Leadership In Islamic Education: Study Of Thematic Al-Qur'an And Al-Hadist. ULUL ALBAB Jurnal Studi Islam, 17(1), 31-46. https://doi.org/10.18860/ua.v17i1.3253
Khoirurrizki, A. A., & Bustam, B. M. R. (2022). Analisis Rendahnya Minat Baca Al-Qur'an pada Anak Usia Sekolah. Jurnal Ilmu Pendidikan Dan Sosial, 1(1), Article 1.Google Scholar
Kurniawan, H., Tanti, L., Fujiati, Agustin, F., & Rahmad, I. F. (2019). Decision Support System for Quran Teacher Selection Using Profile Matching Method on TPQ Anbata. 1361(1). Scopus. https://doi.org/10.1088/1742-6596/1361/1/012011
Kusuma, Y. (2018). Model-model perkembangan pembelajaran BTQ di TPQ/TPA di Indonesia. J-PAI: Jurnal Pendidikan Agama Islam, 5(1). https://doi.org/10.18860/jpai.v5i1.6520
Ma'mun, M. A. (2018). Kajian Pembelajaran Baca Tulis Al-Qur'an. Jurnal Pendidikan Islam, 4(1), Article 1. https://doi.org/10.37286/ojs.v4i1.31
Memory, M., Silas. (2021). Data Analysis and Methods of Qualitative Research: Emerging Research and Opportunities: Emerging Research and Opportunities. IGI Global. Google Scholar
Nahar, S., Saputra, E., & Riyadh, M. (2021). Implementation of Tahsin Al Qur'an Learning with Iqro' Method in Improving Students' Reading of Al Qur'an in SD IT DOD Tanjung Gusta Sunggal District. Budapest International Research and Critics in Linguistics and Education (BirLE) Journal, 4(3), Article 3. Google Scholar
Nasichah, A. H. (2023, April). The Role of Taman Pendidikan Al-Qur'an in Instilling the Students' Principles of the Importance of Seek Islamic Education at Pondok Pesantren. In Proceeding International Conference on Religion, Science and Education (Vol. 2, pp. 231-237). https://doi.org/10.2991/assehr.k.220705.001
Nurhadi, N. (2019). Sekolah Bermain (TPI/TPA/TKA/TPQ) dalam Pendidikan Islam. AS-SABIQUN, 1(1), Article 1. https://doi.org/10.36088/assabiqun.v1i1.206
Purnomo, S. F. L. A., Untari, L., Purnama, S. F. L. S., Muttaqien, M. Z., Umam, R. K., Sartika, Y., Nashirudin, M., & Adzhani, S. A. (2022). Transadapting fable into a parable for Indonesian Muslim children: Strategies and impacts. Indonesian Journal of Applied Linguistics, 12(2), 545–555. https://doi.org/10.17509/ijal.v12i2.29101
Purwanti, E. Y., & Mukminin, A. (2021). Efforts of the Diniyah Takmiliyah Communication Forum in Increasing Interest in Reading the Qur'an. EDUKASI : Jurnal Pendidikan Islam (e-Journal), 9(2), Article 2. https://doi.org/10.54956/edukasi.v9i2.34
Puspita, R., Sari, W., & Tabroni, I. (2023). Learn To Read Write the Qur'an: Does It Really Improve Spiritual Intelligence. Kampret Journal, 2(2), 78-84. https://doi.org/10.35335/kampret.v2i2.107
Qodim, H. (2023). Preserving Faith and Tradition: The Role of Traditional Leaders and Mosques in the Socio-Religious Life of Coastal Communities. Khazanah Sosial, 5(1), 104-112. https://doi.org/10.15575/ks.v5i1.24502
Rohman, A., Prasetiya, B., & Halili, H. R. (2022). Peran TPQ dalam Meningkatkan Kualitas Kemampuan Baca Al-Qur'an Pada Anak di TPQ Bahrul Ulum Desa Jrebeng Kecamatan Wonomerto Kabupaten Probolinggo. Al Ibtidaiyah: Jurnal Pendidikan Guru Madrasah Ibtidaiyah, 09(02), 189–208. Google Scholar
Rohman, M. Z. (2019). From Print To Screen: Methodology, Media, And Transition of Qur'anic Learning In Indonesia. Khazanah: Jurnal Studi Islam dan Humaniora, 17(2), 191-208. https://dx.doi.org/10.18592/khazanah.v17i2.3211
Sarifudin, A., & Ernawati, N. (2020). The Effect of Using The Yanbu'a Method on The Ability To Read The Al-Qur'an Santri in Pondok Pesantren Al-Badar Kecamatan Pamijahan Bogor. Edukasi Islami: Jurnal Pendidikan Islam, 9(02), Article 02. https://doi.org/10.30868/ei.v9i02.908
Sholichin, R., Saifudin, A., & Buana, V. G. (2019). Dynamics of Use Of Methods And Teaching Books in TPQ Learning Under The Ring of LP. Ma'arif in Garum, Blitar. Journal of Development Research, 3(1), 31-36. https://doi.org/10.28926/jdr.v3i1.66
Sopha, M., & Tabroni, I. (2022). Improving Makhorijul Letters through the Sorogan Method. Asian Journal of Community Services, 1(5), 295-304. https://doi.org/10.55927/ajcs.v1i5.1816
Supriyadi, T., Julia, J., & Iswara, P. D. (2019). Phonological interference in reciting al-Qur'an: A critical reflection on the learning of Al-Qur'an phonology through action research. International Journal of Learning, Teaching and Educational Research, 18(9), 46–77. Scopus. https://doi.org/10.26803/ijlter.18.9.3
Sya'roni, M. A. A., & Kasman, R. (2022). The Effectiveness of Using Talaqqi and Flashcard Methods in Learning Hijaiyah Letters for Early Children in Cikaret Village. Abdi Dosen: Jurnal Pengabdian Pada Masyarakat, 6(2), 576-581. https://doi.org/10.32832/abdidos.v6i2.1340
Taan, A. A., Khan, S. U. R., Raza, A., Hanif, A. M., & Anwar, H. (2021). Comparative Analysis of Information Retrieval Models on Quran Dataset in Cross-Language Information Retrieval Systems. IEEE Access, 9, 169056–169067. https://doi.org/10.1109/ACCESS.2021.3126168
Tanzeh, A., Sofingatun, Patoni, A., Sukur, M., & Aziz, A. (2020). The Student Management Based on Participants in Improving Quality of Tahfidz Program with Supply Chain Practices. International Journal of Supply Chain Management, 9(2), 889–896. Google Scholar
Thomas, G. (2021). How to Do Your Case Study. How to Do Your Case Study, 1–320. Google Scholar
Usiono, U., Irfan, M., Zahara, A., Winarti, W., Arafah, S., & Nuhara, W. (2021). Improving the Ability to Read the Qur'an For Elementary School Age Children Using Iqra' Method with Letters Card Media. Jurnal Basicedu, 5(5), Article 5. https://doi.org/10.31004/basicedu.v5i5.1370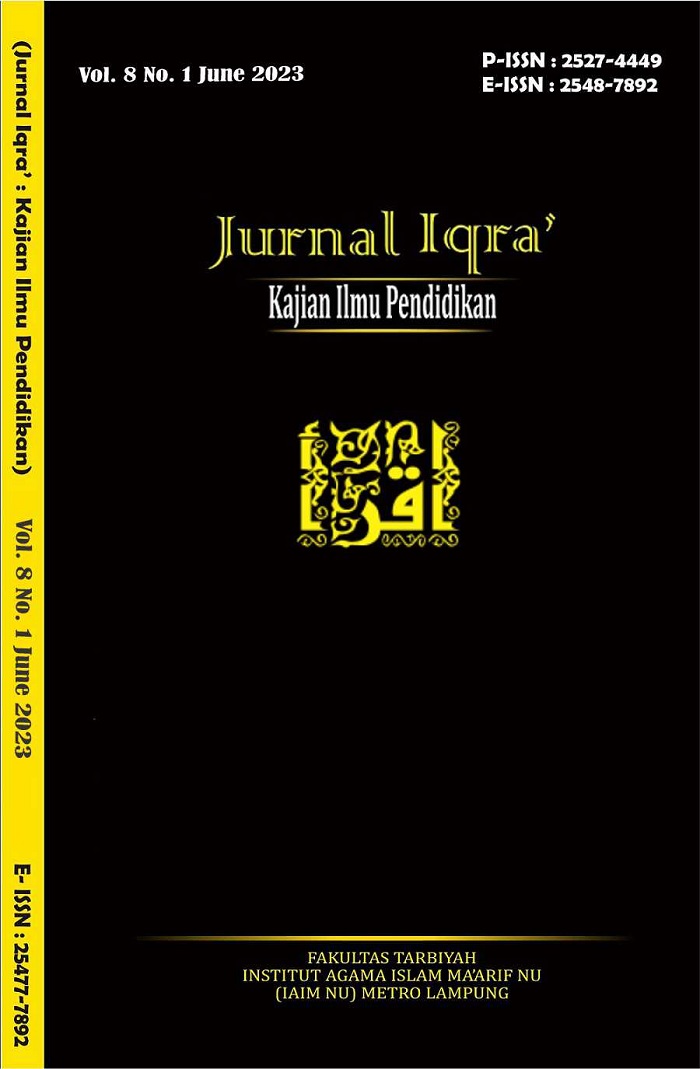 Downloads
How to Cite
Muh. Hanif, Rahma Kemala Dewi, Abu Dharin, & Florian Pohl. (2023). Learning Al-Qur'an Using Asy-Syifaa Method at Islamic Pre-Elementary School. Jurnal Iqra' : Kajian Ilmu Pendidikan, 8(1), 210–223. https://doi.org/10.25217/ji.v8i1.2529
License
Copyright (c) 2023 Rahma Kemala Dewi, Muh. Hanif, Abu Dharin, Florian Pohl
This work is licensed under a Creative Commons Attribution-ShareAlike 4.0 International License.