Design and Development of MOOCs to Develop Civil Apparatus Competence for the Banten Provincial Government Toward Banten Corporate University
Abstract
Competency development is important for every employee and should be empowered for them. Competency development through training consists of classical training and non-classical training. One form of non-classical training is independent learning and self-development through online learning, such as Massive Open Online Courses (MOOCs). The purpose of this research is to figure out the learning process either before and after the development of MOOCs and to develop an information system for training and independent learning as one feature of LMS Banten Ceria in the form of a Massive Open Online Course (MOOC) as an online learning platform with the principle of independent learning or self-directed learning in order to support the Corporate University program in the Province of Banten. This research has a mixed-methods design that blends qualitative and quantitative methodologies. The 4D Thiagarajan model is used in this study, along with research and development methodologies. The result show that MOOCs are effective in developing the competencies of the civil apparatus in the Province of Banten. The difference in average between the pre-test and post-test scores is 20 points. The learning process after using MOOCs shows improvements in knowledge and competence.  Hence, the system of online learning will support the BPSDMD Banten Provincial Program as it becomes a corporate university.
Keywords: Development MOOCs, Design MOOCs, Civil Apparatus Competence
References
Andrayani, L., Zainal, V. R., Nawangasri, L. C., & Hariadi, W. W. (2022). Pelatihan dan Pengembangan Pegawai di Lingkungan Kementerian Keuangan. COMSERVA, Jurnal Penelitian Dan Pengabdian Masyarakat, 2(6), 836–842. https://doi.org/10.36418/comserva.v2i6.365
Baporikar, N. (2014). Corporate university edification in knowledge society. International Journal of Strategic Change Management, 5(2), 125. https://doi.org/10.1504/ijscm.2014.060258
Basri, W. S., & Johannes, A. W. (2022). Pengembangan Kompetensi Pegawai Negeri Sipil Dalam Penerapan Pelatihan Nonklasikal Pada Era Revolusi Industri 4.0 Di Badan PengeMBANGAN SUMBER DAYA MANUSIA PROVINSI SULAWESI SELATAN. Jurnal Ilmiah Administrasi Pemerintahan Daerah, 14(1), 36–52. https://doi.org/https://doi.org/10.33701/jiapd.v14i1
Baturay, M. H. (2015). An Overview of the World of MOOCs. Procedia - Social and Behavioral Sciences, 174, 427–433. https://doi.org/10.1016/j.sbspro.2015.01.685
Chacón-Beltrán, R. (2014). Massive Online Open Courses and Language Learning: The Case for a Beginners' English Course. Procedia - Social and Behavioral Sciences, 141, 242–246. https://doi.org/10.1016/j.sbspro.2014.05.042
Darmayanti. (2022). Evaluasi pembelajaran pelatihan dasar cpns tahun 2022 dengan analytical hierarchy process (ahp). LEARNING: Jurnal Inovasi Penelitian Pendidikan Dan Pembelajaran, 2(3), 1–23.
De Vos, A., De Hauw, S., & Willemse, I. (2015). An integrative model for competency development in organizations: The Flemish case. The International Journal of Human Resource Management, 26(20), 2543-2568.
Devi, R. S., & Tarigan, P. (2022). Peranan badan kepegawaian daerah dalam pengembangan karir aparatur sipil negara pada pemerintah kabupaten nias selatan (Sesuai Undang-Undang Republik Indonesia No 5 Tahun 2014). Jurnal Ilmiah Metadata, 4(1), 446–464.
Drake, J. R., O'Hara, M., & Seeman, E. (2015). Five principles for MOOC design: With a case study. Journal of Information Technology Education: Innovations in Practice, 14(1), 125–143. https://doi.org/10.28945/2250
Evianto, E. (2020). Cendekia Niaga Journal of Trade Development and Studies Persepsi peserta atas penyelenggaraan massive open online course ( mooc ) audit berbasis risiko Abstrak. Cendekia Niaga, Journal of Trade Development and Studies, 4(1), 17–22.
Fang, J. W., Hwang, G. J., & Chang, C. Y. (2022). Advancement and the foci of investigation of MOOCs and open online courses for language learning: a review of journal publications from 2009 to 2018. Interactive Learning Environments, 30(7), 1351–1369. https://doi.org/10.1080/10494820.2019.1703011
Holland, P., & Pyman, A. (2006). Corporate universities: A catalyst for strategic human resource development? Journal of European Industrial Training, 30(1), 19–31. https://doi.org/10.1108/03090590610643851
Iskandar, R. (2022). Implementasi Peraturan Lembaga Administrasi Negara Nomor 10 Tahun 2018 Pada Sekretariat Daerah Kota Dumai. Jurnal Niara, 15(1), 154–165. https://doi.org/10.31849/niara.v15i1.9495
Lee, G., Keum, S., Kim, M., Choi, Y., & Rha, I. (2016). A Study on the Development of a MOOC Design Model. Educational Technology International, 17(1), 1–37.
León-Urrutia, M., Cobos, R., & Dickens, K. (2018). MOOCs and their influence on higher education institutions: Perspectives from the insiders. Journal of New Approaches in Educational Research, 7(1), 40–45. https://doi.org/10.7821/naer.2018.1.252
Lubis, A. H., Idrus, S. Z. S., & Rashid, S. A. (2020). The exposure of MOOC usage in Indonesia. International Journal of Scientific and Technology Research, 9(2), 2716–2720.
Lustri, D. (2007). Knowledge management model : practical application for competency development. The Learning Organization, 14(2), 186–202. https://doi.org/10.1108/09696470710727023
Maria, A. (2021). Transformasi Menuju Corporate University Generasi Berikut. (1st ed.). PT. Wahana Tatar Wirakelola.
Maria, A., & Kumar, P. (2016). The 7th Fundamentals of Highly Performed Corporate University (1st Editio). PT. Intipesan Pariwara.
Mazoue, J. G. (2013). The MOOC Model : Challenging Traditional Education. EDUCAUSE Review, 1–9. Google Scholar
Mulia, L. T. (2023). Implementasi Manajemen Pegawai Pemerintah Perjanjian Kerja Dalam Undang Undang Nomor 5 Tahun 2014 Tentang Aparatur Sipil …. Jurnal Pendidikan Tambusai, 7(1), 2284–2293. Google Scholar
Norazah Mohd Nordin, ., & Ngau Chai Hong, . (2009). Pembangunan dan Penilaian Bahan Pengajaran dan Pembelajaran Berasaskan Web – Webquest bagi Mata Pelajaran ICT ( Development and Evaluation of Webquest for Information and Communication Technology Subject ). Jurnal Pendidikan Malaysia, 34(1), 111–129. journalarticle.ukm.my/213/1/1.pdf
Nurhudatiana, A., & Caesarion, A. S. (2020). Exploring User Experience of Massive Open Online Courses (MOOCs): A Case Study of Millennial Learners in Jakarta, Indonesia. ICEIT, 44–49. https://doi.org/10.1145/3383923.3383968
Paduppai, A. M., Hardyanto, W., Hermanto, A., & ... (2021). the Role of Massive Open Online Courses (Mooc) in Training During the Covid-19 Pandemic. Turkish Journal of …, February. Google Scholar
Prince, C., & Stewart, J. (2002). Corporate universities – an analytical framework. Journal of Management Development, 21(10), 794–811. https://doi.org/10.1108/02621710210448057
Rafiq, K. R. M., Hashim, H., Yunus, M. M., & Pazilah, F. N. (2019). Developing a MOOC for communicative english: A battle of instructional designs. International Journal of Innovation, Creativity and Change, 7(7), 29–39.
Sangadji, I. A., Jannang, A. R., & Sabuhari, R. (2022). Model pelatihan sebagai strategi pengembangan kompetensi asn maluku utara. Jurnal Mitra Manajemen (JMM Online), 6(9), 563–577. Google Scholar
Seidametova, Z. (2018). Design and development of MOOCs. CEUR Workshop Proceedings, 2104, 462–471.
Singelmann, L., Swartz, E., Pearson, M., Striker, R., & Vazquez, E. A. (2019). Design and Development of a Machine Learning Tool for an Innovation-Based Learning MOOC. Proceedings of 2019 IEEE Learning With MOOCS, LWMOOCS 2019, October, 105–109. https://doi.org/10.1109/LWMOOCS47620.2019.8939621
Sugiyono. (2018). Metode penelitian kuantitatif, kualitatif dan kombinasi (mixed methods).
Tanjung, R. (2022). Pengembangan Kompetensi Pelayanan Publik ASN melalui Jalur Magang di Kabupaten Karawang. JIIP - Jurnal Ilmiah Ilmu Pendidikan, 5(3), 793–799. https://doi.org/10.54371/jiip.v5i3.489
Thiagarajan, S., Semmel, D. S., & Semmel, M. I. (1974). Instructional Development for Training Teachers of Exceptional Children.
Wang, G. G., Li, J., Qiao, X., & Sun, J. Y. (2010). Understanding the Corporate University phenomenon: A human capital theory perspective. International Journal of Human Resources Development and Management, 10(2), 182–204. https://doi.org/10.1504/IJHRDM.2010.031443
Wang, Y. (2020). Improving MOOC learning performance in China : An analysis of factors from the TAM and TPB. Computer Appl Eng Education, July, 1–13. https://doi.org/10.1002/cae.22310
Woon, Y. H. (2019). Students' Perception about Learning using MOOC. International Journal of Education Technology (IJET), 14(18), 203–208.
Zulkifli, N., Hamzah, M. I., & Bashah, N. H. (2020). Challenges to Teaching and Learning Using MOOC. Creative Education, 11(03), 197–205. https://doi.org/10.4236/ce.2020.113014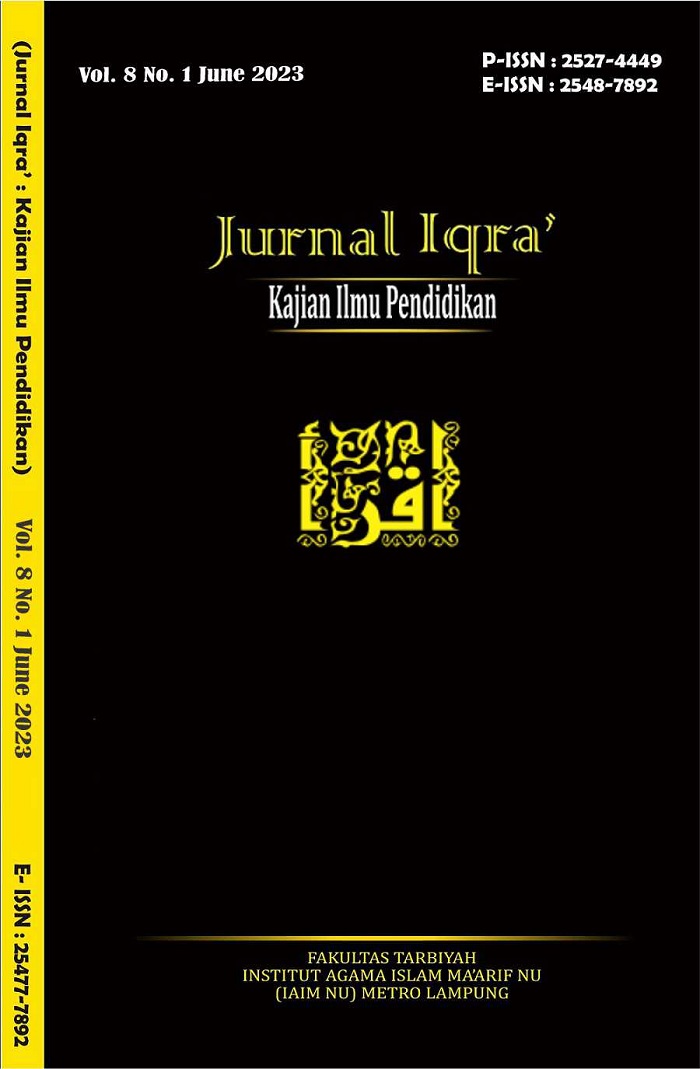 Downloads
How to Cite
Muhammad Arif Rahman, Subai, Lilik Nur Kholidah, Farooq Ahmed Jam, Mustofa Kamil, & Suherman. (2023). Design and Development of MOOCs to Develop Civil Apparatus Competence for the Banten Provincial Government Toward Banten Corporate University. Jurnal Iqra' : Kajian Ilmu Pendidikan, 8(1), 133–145. https://doi.org/10.25217/ji.v8i1.3251
License
Copyright (c) 2023 Muhammad Arif Rahman, Subai, Lilik Nur Kholidah, Farooq Ahmed Jam, Mustofa Kamil, Suherman
This work is licensed under a Creative Commons Attribution-ShareAlike 4.0 International License.